We have to find the others, quickly!
This article is a Stub. Lend a hand by improving and expanding it.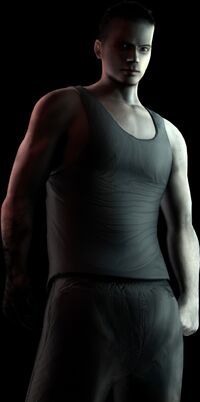 Former Leafmore High student and full-time good-looking guy, Kenny Matthews rarely avoids trouble or any kind of obstacle. Force is what he uses to push through anything and anyone on his path. Being a celebrated quarterback has given Kenny ample opportunity for conquest among female populace of Fallcreek. When faced with his sister Shannon however, he quickly reverts to the role of little brother.
-Description
Appearance
Edit
Kenny has a masculine body with a brunet, crew cut hairstyle. He wears a grey athletic shirt and a darker shade of grey sweatpants. In comparison, his choice of clothing does not differ from the original game.
Attribute
Edit
-tba-
-tba-
Personality
Edit
-tba-
His birthday is June 27, 1984.
He is originally from Riverside, CA.