We have to find the others, quickly!
This article is a Stub. Lend a hand by improving and expanding it.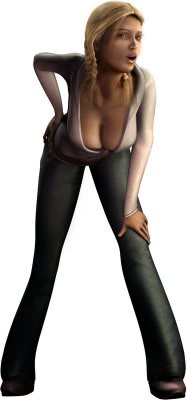 Genuine blond and Miss Wet T-shirt on campus, Amy Brookes is partly responsible for the suspicious stickiness of many a bed sheet belonging to the male student populace of Fallcreek. However, her phenomenal skill at deciphering and breaking near-impossible codes and puzzles, puts her in a different league than even the most hard-nosed womanizer is able to reach. Beautiful, cunning... Inaccessible?
-Description

Amy is in the hearts - and pants - of many men on campus. Despite her succubus ways, she keeps a strong bond with her friends and keeps a down-to-earth attitude. She is admired by Sven and Kenny.
She is voiced by Mikayla May.
==Apparance : Elle et blonde au yeux vert clair bleu ! Elle et de taille moyenne et à la peau mixte ... Une bouche pulpeuse,un nez fin,Des yeux petits... En coiffure elle porte de deux côtés des tresses et à les cheveux de longueur court, En vêtement elle met un débardeur très plongent et un gilet moulant rose qui la met en valeur ...Un pantalon bleu,des chaussures marron et son Strings rose qui dépasse de son pantalon
Attribute
Edit
-tba-
-tba-
Personality
Edit
-tba-
Her birthday is April 11, 1986.
She is originally from Charlotte, NC.